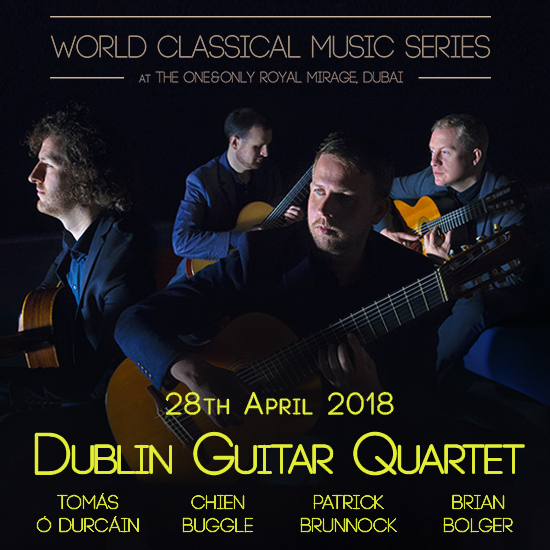 Dublin Guitar Quartet in Dubai
The Dubai Concert Committee – dccIs proud to announce its upcoming concert! World Classical Music Series on 28 April 2018.
With its singular approach and eclectic programming, the Dublin Guitar Quartet sets itself apart from the crowd with its one:of:a:kind dedication to exploring classical/contemporary music from around the globe. By taking its audiences on a journey through many styles and sounds, the Dublin Guitar Quartet ofers an exciting concert experience that stretches the boundaries of its genre.
The Magical Royal ballroom with its great acoustics provides the frame to the concerts and creates a bespoke atmosphere for music connoisseurs to enjoy world performers in an elegant setting ideal to socialize before, at the interval and after the event. Special food packages can be booked and are prepared of the marvelous Chefs of the One and Only Royal Mirage.
When: 28 April at 8pm-10pm
Venue: One and Only Royal Mirage, Royal Ballroom, Doors open at 7pm, concert starts at 8 pm
Previous Post