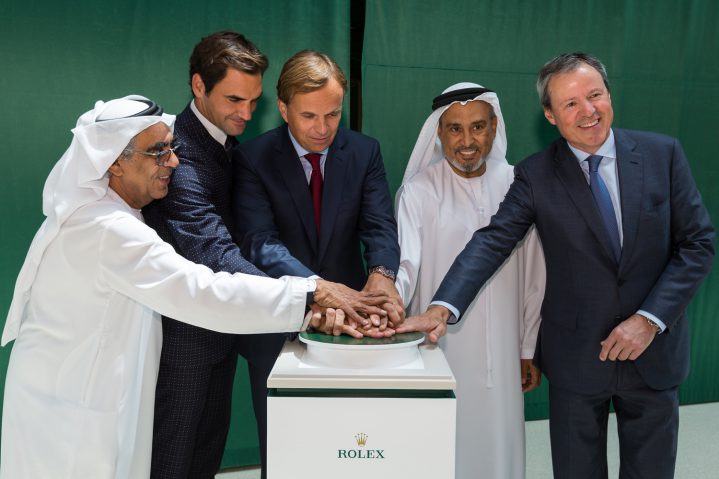 Rolex and Ahmed Seddiqi & Sons have inaugurated a new Rolex Boutique in Dubai
Building on a long-standing partnership, Rolex and Ahmed Seddiqi & Sons have inaugurated a new Rolex Boutique in Dubai. Located in the Fashion Avenue, the latest extension of The Dubai Mall − the largest shopping mall in the world by total area and home to more than 150 luxury brands − the boutique represents theepitome of modern retail luxury. Opened on 30 April 2018, the three- level structure, the world's largest Rolex Boutique, covers an unprecedented 850 square metres of retail space, including an area devoted to atotal immersion into the world of Rolex − the Rolex Experience – which encapsulates the brand and its legacy in a truly exclusive and unique setting.
"We are honoured to partner with Rolex on this major endeavour that represents a landmark for our retail operation which, over half a century, has grown from a single shop in Souk Bur Dubai to more than 65 watch boutiques across the UAE, including five Rolex Boutiques and 12 points of sale in Dubai. The latest Rolex Boutique will showcase Rolex watches in spectacular surroundings," said Abdul Hamied Ahmed Seddiqi, Vice Chairman of Seddiqi Holding. "This collaboration marks an enduring relationship and ourcontinued passion for the Rolex brand."
 Ahmed Seddiqi & Sons, the Middle East's leading retailer of luxury watches and jewellery, has been the Official Rolex Retailer in Dubai for almost 60 years. The late Ahmed Qasim Seddiqi, the company's founder, was one of the first watch distributors in the Gulf region and he built a strong bond with Rolex over the past decades, based on mutual respect and common goals.
In commenting on the launch of the new store, Jean- Frédéric Dufour, Chief Executive Officer of Rolex SA, said: "This outstanding boutique offers a total Rolex experience. We are delighted to bring the history of the Rolex brand and its know- how together in this way in association with our long-time partner, Ahmed Seddiqi & Sons."
 The Rolex Boutique was created with bespoke architectural and design components, custom-designed by the Rolex Interior Design department in Geneva to reflect thebrand image with its hallmark colours, materials and architectural features. Inspired by the design of Rolex watches, the façade of the building echoes the iconic fluted bezel, withalternating transparent and opaque elements – bringing light into the boutique and a view of the exterior from the inside. In addition, design elements were inspired by the localaesthetic and culture, infused throughout the boutique.

Next Post