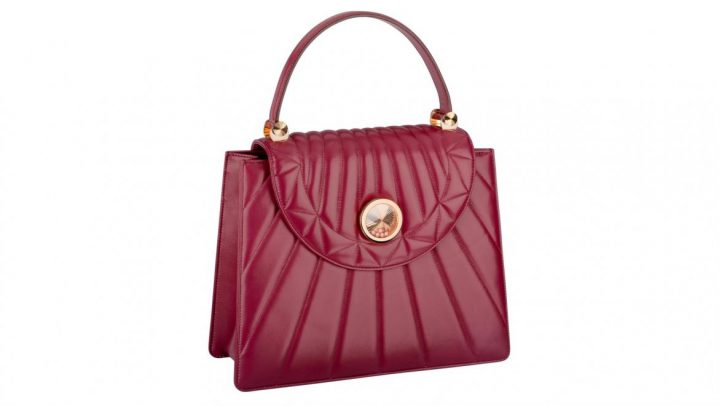 Chopard Launches the Happy Diamonds Collection
Happy leather collection
Joie de vivre within reach
Chopard is extending its leather collection inspired by the Maison's iconic Happy Diamonds. Three lines of bags set the perfect signature touch to an incomparable allure, reflecting the mood of the moment through various materials and characteristic Chopard finishes. They encapsulate the distinguished elegance of hand craftsmanship, incredible chic and a free-spirited attitude. The entire Happy Diamonds spirit beats at the heart of this must-have accessory collection.
A lipstick, a love note, a link with loved ones. A few secrets, a wealth of emotions, unmistakable allure. A Happy bag is a talisman, the promise of an intimate haven within reach. Intrepid travellers and everyday heroines, women slip inside it everything that enables them to pursue their quest and maintain their momentum with natural panache. Their incessant daily whirl reflects that of the Happy Diamonds, the iconic signature of the Maison Chopard. They are free and connected, joyful and dancing, truly dazzling… They carry with them a world on the move, in which their Happy bag serves as an ally and precious confidant.
Because there are so many things to be experienced and successive days bring an infinite wealth of diverse scenes and adventures, Chopard has created three separate lines of Happy Bag: a shoulder bag, a handbag and a clutch. The first obviously gives a woman the pleasant feeling of striding along with the bag worn over her shoulder and resting on her waist or hips – hands either in pockets or busily engaged in keeping pace with the world, a spring in her step and a lively twinkle in her eye. The handbag is quintessential chic. A grand classic reinterpreted with an ultra-contemporary, ideally proportioned design: a bag for life. Held in the hand or the crook of the arm, perfect with a dress suit or a pair of jeans and sneakers, it adapts to every whim without ever losing the strong personality that is a key style element. The clutch rounds out this leather collection with the graceful charm of an eminently versatile accessory. Carried in the palm of the hand or slipped under an arm, it glides its way through the day of a woman in a hurry, rushing from cocktails to the opera house. It never impinges on her silhouette or slows her down, while ensuring peerless sophistication.
Infinity in a clasp
On each of these three types of bag, a precious rose gold-plated clasp transforms this functional object into a full-fledged piece of jewellery. The legendary Chopard signature, stemming from its watch and jewellery universe, adds a joyful and playful touch to the Happy bag collection. Dancing gems whirling between two sapphire crystals, based on the same principles as the Happy Diamonds, transform each of the Maison's watch, jewellery and now leather models into authentic talismans. Based on a patented technique, each gem is housed in a metal capsule with a bevelled base enabling the stones to enjoy perfect freedom of movement, while spinning on their own axis. The three lines composing this collection are available in versions enhanced with mother-of-pearl, malachite and opal. These dancing stones whirl against a finely guilloché rose gold-plated background, catching the light in full flight and enhancing its sunny radiance. This precious, luminous and playful clasp resembles a lucky charm 'eye' representing the crowning glory of an accessory that is stunningly hand-crafted in each and every detail.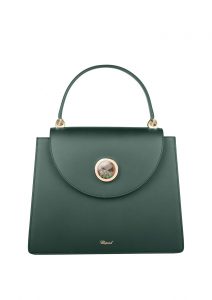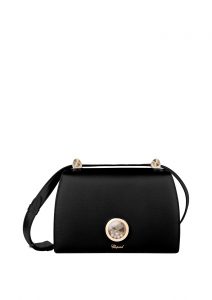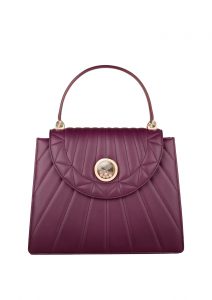 Next Post