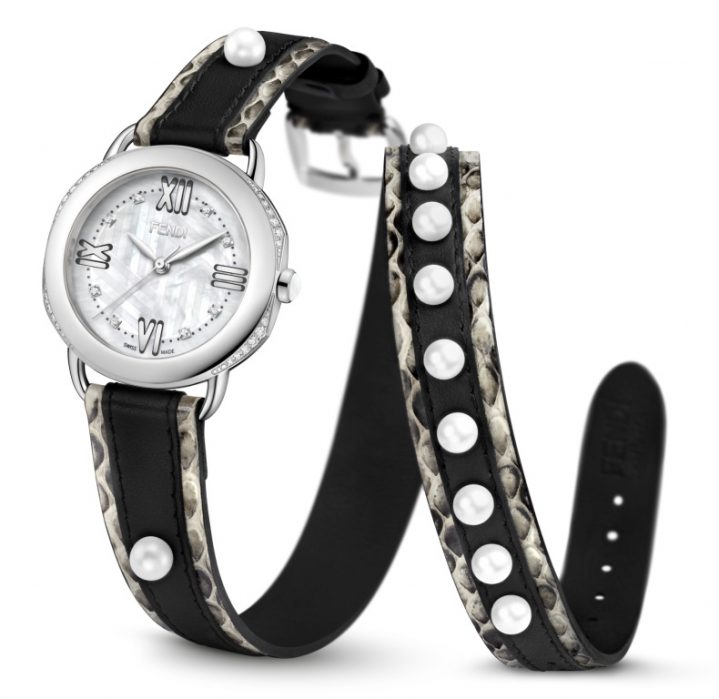 Fendi Timepieces Presents the New Selleria Pearl Look strap
Featuring a unique combination of precious leathers, the Selleria Pearl Look strap is embellished with spherical studs with
pearly finishing infusing the iconic Selleria timepiece with elegance and femininity. The Selleria interchangeable straps are now enriched with a new strap studded with pearl details to give a new twist to the Collection. The combination of contrasting matt calfskin leather and shiny exotic skin celebrates the Fendi highest savoirfaire by mixing noble materials and textures.
The Selleria Pearl Look strap adorns the stainless steel watch enhanced with edges set with precious diamonds. The pearl studs on the strap lit-up the watch's dial in white mother-of-pearl featuring the renowned Astuccio pattern inspired by a Karl Lagerfeld sketch realized in 1971 for the iconic Astuccio fur. Thanks to the patented interchangeable strap system, the Selleria timepieces can be easily customized with each strap
having a new look to suit different moods. Feminine and elegant, the Selleria Pearl Look strap is dedicated to women who seek to express their bold personality and sophisticated attitude.