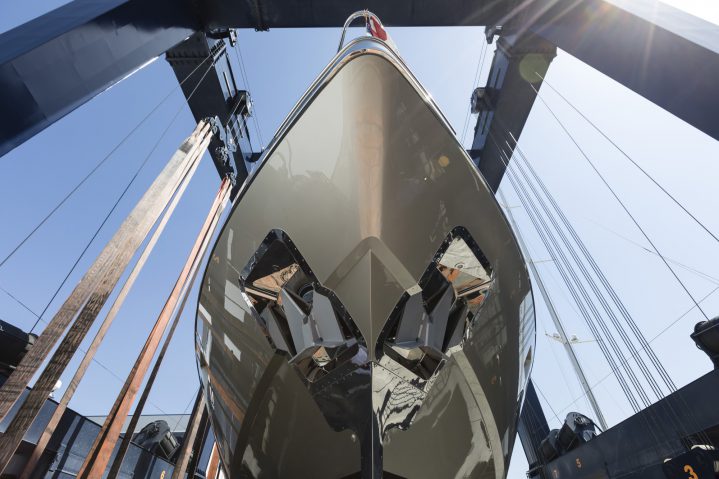 The New Mangusta Maxi Open 94 Is Launched
With the christening of the new yacht, Overmarine Shipyard celebrates another success for the Mangusta brand, with the series that represents unrivalled excellence in the nautcal industry: the Maxi Open.
This is the seventh Mangusta Maxi open intended for the American market in the last fve years, and soon another yacht, the eighth, will be added. There are many reasons for this success, startng from the decision to introduce a new series of models to the market, to fully satsfy the needs of the Owners, including the need to navigate in shallow waters, an essental requisite in nautcal paradises like Florida and the Bahamas, or the Hamptons in the summer period. This efcacy was further consolidated by the marketng strategy. Through a plan of targeted
actons, Overmarine Group has established excellent contact with the American public, who increasingly associates the Mangusta brand with the company's newer models, and appreciates its values. Aesthetc beauty, functonal layout, absolute onboard comfort, and high-quality engineering are the elements that the Owners most perceive in Mangusta. Just like the shipyard,
appreciated by the target market because it is symbolic of a family business, solid, organised, and capable of guaranteeing atenton and assistance of the highest level in the territory, and because they have been working in the nautcal industry for more than 60 years.
Mangusta 94 is a perfect interpretaton of the "Mangusta Maxi Open" concept. Grand visual impact, lines that combine sportness and tmeless style, maximum state-of-the-art technology for always impeccable navigaton. The ideal yacht that combines the wish to reach one's destnaton with the utmost comfort, and surprising speed. Thanks to the MTU 16V2000
M96L motors, which drive the Mangusta 94 to a top speed of over 36 knots. Its extreme versatlity is refected in the ability to navigate shallow waters, taking full advantage of the KameWa / Rolls Royce waterjets propulsion, perfect for smooth, fast travel, and the limited draft of just 1.6 metres. Essental for navigaton in the Americas.
Its performance is based on the very latest technology, with motors that guarantee top-notch performance levels and decisively lower fuel consumpton. And in onboard comfort. Thanks to the two gyroscopic stabilizers, perfectly capable of performing their functon of stabilising the boat in all sea conditons, at anchor and under way. For this unit, the ffth in the series, the interiors and décor were designed specifcally to the Owner's taste, in collaboraton with Andrew Winch Design. Just like any other Mangusta, they were executed with the utmost handcrafted atenton: from the choice of materials, to the quality of work on each detail on board.