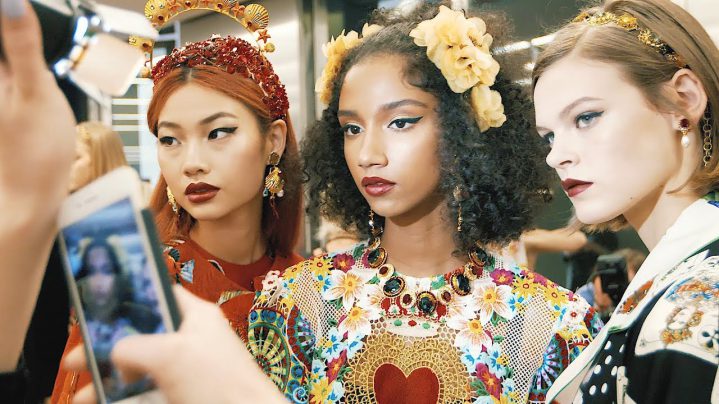 Dolce&Gabbana Beauty – DG womenswear fashion show SS19 #DGDNA – The Beauty Look
BACKSTAGE AT DOLCE&GABBANA:
READY-TO-WEAR S/S 2019
@DGBeauty
#DGBeauty #DGDNA
(Milan, Italy – September 23rd, 2018) – For the Spring/Summer 2019 Ready-to-Wear season, Dolce&Gabbana presented a series of runway looks inspired by the brand's DNA: an ode to its roots. A true declaration of love. To honour the collection's theme, the beauty look is timeless and signature with an explosion of colours on lips and nails, contrasting with a black intense eye look. The fresh and polished skin with bright pink cheeks is the perfect canvas for this statement beauty look that will never go out of style.
To achieve a flawless and luminous complexion, make-up artists used MILLENNIALSKIN On-The-Glow Tinted Moisturizer, blending the lightweight texture outward from the center of the face, to create a lit-from-within glow effect. The new MILLENNIALSKIN.
On-The-Glow Longwear Concealer was applied under the eyes and along the nose to lighten the shadowed areas and get extra radiance. A stroke of colour was added on the cheeks with the Creamy Blush in Rosa Carina 30 to give them a natural flush. On the eyelids, the warm nude shade of the Perfect Mono Eyeshadow in Desert 40 was applied to create the perfect base, and a bit of the Gold Dust 20 pearly nude shade was delicately added for light and shimmer. Complementary neutral tones from nude to chocolate of The Eyeshadow Quad in Desert 123 were applied with the blending brush all over the lid, extending it out toward the temple and up to the brow bone for a natural yet sharp effect. To create the iconic intense liner flicks, make-up artists drawn a fluid line with the Emotioneyes High Definition Eyeliner Stylo in Nero 1 or the Glam Liner in Black Intense 1 along the top of the upper lashes and extended it out for a passionate feline gaze.
As finishing touch, a few coats of the Passioneyes mascara in Nero 1 were applied on the curled top lashes, to get a volumizing effect. Brows were sculpted and filled with colour using The Brow Liner in shade matching hair colour.
The look kept an important focus on the lips with sumptuous colours, an explosive colourful palette to recall the magnificent gardens of flowers in Italy. Depending on what they were wearing, models' lips were painted in either warm nude, vivid pink, true red or deep burgundy – creamy or matte textures of the Classic Cream Lipstick and the Dolce Matte Lipstick.
On the nails, models wore The Nail Lacquer in a variety of playful colours to make every look truly unique.